Rihanna and Rakim Mayers aka A$AP Rocky's welcome their first child. Rihanna gave birth to a baby boy in Los Angeles on May 13, TMZ reports. The baby's name has not yet been released and his parents have not yet released a statement.
People confirmed that Rihanna welcomed her baby. A source close to the couple said the two are now at his home in Los Angeles. "Rihanna is doing well. They really enjoy being parents. Rihanna is already an amazing mom," the source said.
TMZ
Rihanna announced in January that she was pregnant. She kept her baby's gender and due date private. In March, she revealed to ELLE.com that she was in her third trimester. When asked if her glow came from Fenty Beauty or from her pregnancy, Rihanna replied, "I mean, they go hand in hand. There's a pregnancy glow. There are those days too, girl," she said.
"Especially in the third trimester where you wake up and you're like, oh, should I get dressed? Makeup definitely helps you to feel like a real person. I just focused a lot on hydration and on contouring. The face becomes a bit round and plump. The nose begins to spread. Everything is a challenge, from getting dressed to how you're going to do your makeup. But I like challenges. I like things that force me to be creative and create in new ways. And you can do so much with beauty."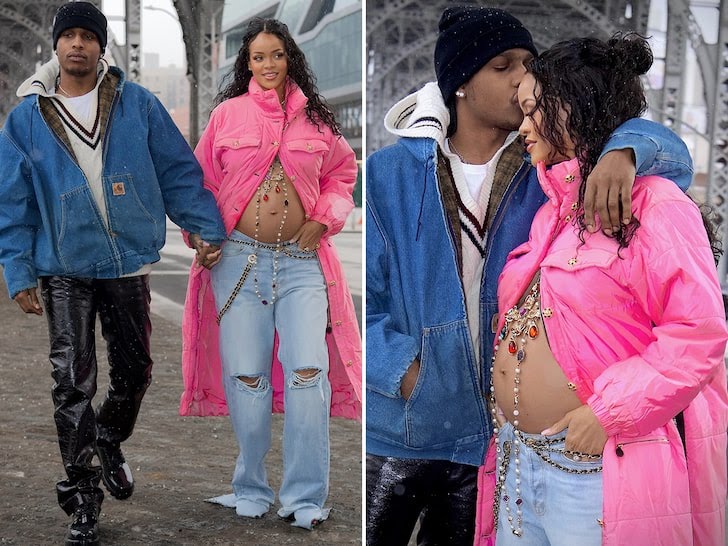 TMZ
She also spoke about which Real Housewives mom inspired her the most — and how far she'll go to protect her new little one. "Teresa [Giudice] from Jersey don't play about her kids. She will tease you about those kids. And that resonates a lot with me because I feel like this is the type of mom I'm going to be. Psycho about it."
This post Rihanna & ASAP Rocky Welcome Their First Child, And Yes, It's A Boy
was original published at "https://www.glamcityz.com/rihanna-asap-rocky-welcomes-their-first-child-and-yes-its-a-boy/"